Community
Jordan Wesolek + BKB Artist Collaboration
Jordan Wesolek, one of our Team Members at BKB Chicago, has been pursing a life of art, design, and travel. You may be familiar with his prominent piece in the retail space at BKB Chicago or his custom-made posters and postcards. We sat down with Jordan to learn a little more about the thinking behind his work and what he's been up to. Our latest artist collaboration product — this army green tweed wool 5-panel hat —  is now available at all BKB locations. Make sure to snag one before they're all gone. Once they're gone, they're gone for good!
How did you get into art and design?
It's in my blood, my mother is an artist (check out www.facebook.com/lilshirl for some dope hand drawn greeting cards). I grew up drawing and creating. You know, hand turkeys, macaroni designs, popsicle stick fortresses. However, drawing took the forefront. Space and dinosaurs were, and still are, my thing but I don't draw those as much as I used too. Now it's about bringing a dreamy sunset or mountscape to people. I try to create a feeling of solitude that brings introspection. Everyone can always do more work on themselves.
How and why did you choose this style of art? 
I chose stippling because of the process and patience it can take. It's crazy boring sometimes and I get really distracted, making thousands of dots isn't always the most fun thing to do. It is really rewarding when the piece comes together though.
What drives you to design and create art?
I've been fortunate enough to travel the world for extended periods of time and through those adventures I snag some inspiration. The Patagonian Andes of Chile and Argentina as well as the volcanoes and waterfalls of Iceland have been the source of drive lately. Recently, I got back from a month long stay in Reykjavik where the focus was gigging and drawing; I am still drawing from that high.
It looks like your personal art collided with your professional life at BKB. What was that like?
It's been rad! So many opportunities as an artist have presented themselves by me simply asking to do stuff. Painting murals in the lobby and collaborating with coworkers to provide some music for yoga classes have been the overlap, it's so fun!
What's your long term goal as an artist?
Connecting with people and have it take me to new places would be pretty cool. I really would like to support myself as an artist, working remotely as some sort of designer would be the dream. Being nomadic, you know. I'd love to chill in Bavaria for a bit, then head back down in Patagonia with porters, maybe kick it with some sherpas in Nepal all the while drawing mountains and campsites while learning to tattoo people for a living.
Do you have any advice for emerging artist?
Just ask people to do the things you want to do, and do it face to face if possible. Be relentless in the pursuit of your goals, no one is going to give you want. Help others when you can and collaborate when opportunities come about.
You're a climber and an artist. Do you see any parallels? And if so, what are they?
Patience, for sure. Improving takes time and practice. Growing pains as and artist and climber are best buds, trying new techniques and refining the ones you have is a constant throughout both lifestyles.
Who inspires you?
I could drone on and on in response to this question, but I'll try to keep it short. Anyone who is doing what they want to do. The people that aren't afraid to go against what is the expected, they do what they believe in (not talking about violence or harm to another, just an FYI). I am speaking in terms of those who quit the job they hate, travel the world until they run out of money, chose a path of uncertainty because it's exciting, or work the 9-5 they love. I dig the carefree people that do what they want without letting lack of security change their mind. That's inspiring, people living exactly how they want too.
How can people learn more about you?
You can find me on Instagram at @jordan.wesolek. I am currently working on a website – www.thejordanw.com, you can find my email there.
Any shoutouts?
Thank you to Sarah and Kris for hooking me up with some retail opportunities. Podz, for having my back on all my projects and travels. Claire and David, for making Flow to the Beat a thing. Abo and Luo, for being dope musicians and helping create the atmosphere for Flow To The Beat. My boy, Erik, for hardstyling with me in hot dog costumes every chance we get. Bee Paper Company (check them out!) for providing me with free sketchbooks. And everyone who has been supportive of the things I've done, whether it's prints you've purchased, yoga classes attended, or high fives for reasons I don't know – thank you!!!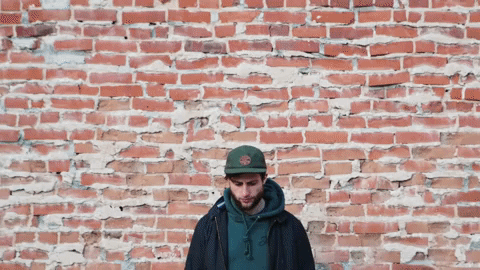 Interested in doing an artist collaboration with BKB? Email us at art@brooklynboulders.com!